2019: New Chances and Perspectives: The Partnership with Northeastern University
The University of Freiburg is taking the next important steps towards a Themed Partnership with Northeastern University in Boston. The international cooperation focuses on the highly interdisciplinary field of resilience research and therefore includes three of the University of Freiburg's profile fields: Data Analysis and Artificial Intelligence, Civil Security Research and Environment and Sustainability. The University of Freiburg's expertise in resilience research lies, among others, with the Institute for Sustainable Systems Engineering INATECH and the Centre for Security and Society.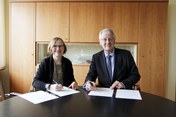 On Tuesday, April 9, Rector Prof. Dr. Dr. h.c. Schiewer und Prof. Dr. Uta Poiger, Dean at College of Social Sciences and Humanities at Northeastern University, signed a Memorandum of Understanding. In line with this important start-up phase of the themed partnership, the universities announced a Call for Applications for two mobility stipends, aiming at highly qualified junior researchers from Freiburg. The chosen applicants will be able to conduct a research project at Northeastern University in 2019. The delegation from Boston is visiting Freiburg on the occasion of the Global Resilience Research Network Summit, organized by the Fraunhofer EMI and taking place April 9 – 11.
Photo: Sandra Meyndt